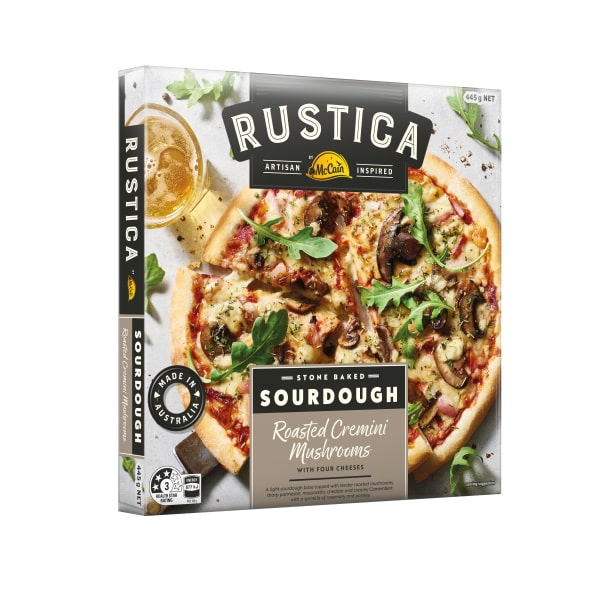 Stone Baked Sourdough
Roasted Cremini Mushrooms


A light sourdough base topped with tender roasted mushrooms, sharp parmesan, mozzarella, cheddar and creamy camembert with a sprinkle of rosemary and parsley.
Add a handful of fresh rocket for the finishing touch.
Ingredients
Wheat Flour, Mozzarella, Cheddar & Parmesan Cheese (17%) (Milk, Salt, Starter Culture, Non Animal Enzyme, Non Animal Rennet), Water, Cremini Mushrooms (11%), Tomato (Tomato, Acidity Regulator (330)), Onions, Camembert Sauce (Camembert Cheese (Milk) (1%), Cheese (Milk)), Tomato Paste, Sourdough (1%) (Wheat Flour, Starter Culture, Yeast, Ascorbic Acid, Enzymes), Salt, Wheat Starch, Maltodextrin, Garlic, Herbs, Sugar, Natural Flavour, Rochester Sauce, Spice, Natural Colour (160c), Rosemary, Parsley.
ALLERGEN STATEMENT
Contains Gluten, Milk, Wheat.
Made in a facility that also processes products with Cashews, Crustacean, Egg, Fish, Peanuts, Sesame, Soy, Sulphites
BAKING Instructions
OVEN
1. Preheat oven to 190°C fan forced.
2. Remove film wrap and place frozen pizza directly on the middle rack of the oven.
3. Bake for 16½ - 17 minutes, rotating half way through cooking, or until topping is baked to your satisfaction.
4. Serve while hot.
NOTE:
Pizza is not to be heated in a toaster oven.
Oven temperatures can vary. You may need to adjust baking times accordingly.
For best results bake from frozen.
Nutritional Information
Servings:
Serving per package
2
Serving size
222 g
Average Quantity per Serving
Average Quantity per 100 g
Storage
Keep frozen at or below minus 18°C.
If contents become thawed, use as soon as possible. Do not refreeze.
MORE Artisan Inspired PIZZAS >
Serving Suggestion
pair with a salad
Apple Pomegranate Salad with Balsamic Glaze
Serves 4
Prep time: 10 mins
Cooking time: 5 mins
Ingredients
3 cups (210g) rocket leaves, washed
1 cup (70g) continental parsley leaves, torn
2 firm granny smith apples
1 medium (150g) Lebanese cucumber, peeled
1 ripe pomegranate
100g toasted hazelnuts or walnuts
¼ cup shaved Parmesan
Balsamic glaze to serve
Method
Combine the rocket and parsley in a large bowl. Using a mandolin or vegetable peeler, shave the apple and cucumber into thin rounds and place over leaves. Slice the pomegranate in half, and hold the cut half over paper towel. Tap vigorously with a wooden spoon from behind to dislodge seeds onto paper towel, then add to salad, repeating with second half. Finish with toasted hazelnuts, Parmesan and a generous drizzle of balsamic glaze.
Nutritional Information
Servings:
Serving per salad
4
Serving size
283 g
Average Quantity per Serving
Average Quantity per 100 g