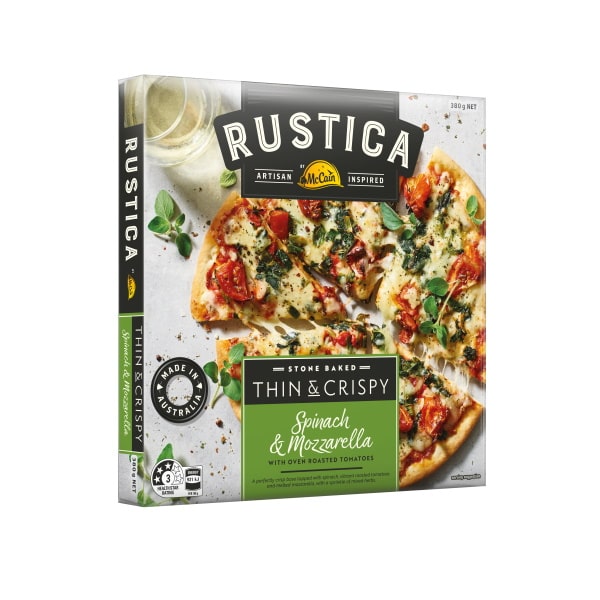 Stone Baked Thin & Crispy
Spinach & Mozzarella


A perfectly crisp base topped with spinach, vibrant roasted tomatoes and melted mozzarella, with a sprinkle of mixed herbs.
Garnish with fresh oregano and sprinkle on some chili flakes for the finishing touch.
Ingredients
Wheat Flour, Mozzarella (18%) (Milk, Salt, Starter Culture, Non Animal Enzyme), Water, Spinach (11%), Roasted Tomatoes (11%), Tomato (Tomato, Acidity Regulator (330)), Parmesan Cheese (Milk, Salt, Non Animal Rennet, Starter Culture, Non Animal Enzyme), Garlic Sauce, Tomato Paste, Breadcrumbs (Wheat), Olive Oil, Yeast, Vegetable Shortening, Wheat Starch, Maltodextrin, Salt, Garlic, Onion, Mixed Herbs, Sugar, Natural Flavour, Rochester Sauce, Spice, Natural Colour (160c), Raising Agents (541, 500), Ascorbic Acid, Enzyme.
ALLERGEN STATEMENT
Contains Gluten, Milk, Wheat.
Made in a facility that also processes products with Cashews, Crustacean, Egg, Fish, Peanuts, Sesame, Soy, Sulphites
BAKING Instructions
OVEN
1. Preheat oven to 180°C fan forced.
2. Remove film wrap and place frozen pizza directly on the middle rack of the oven.
3. Bake for 16½ - 17 minutes, rotating half way through cooking, or until topping is baked to your satisfaction.
4. Serve while hot.
NOTE:
Pizza is not to be heated in a toaster oven.
Oven temperatures can vary. You may need to adjust baking times accordingly.
For best results bake from frozen.
Nutritional Information
Servings:
Serving per package
2
Serving size
190 g
Average Quantity per Serving
Average Quantity per 100 g
Storage
Keep frozen at or below minus 18°C.
If contents become thawed, use as soon as possible. Do not refreeze.
MORE Artisan Inspired PIZZAS >
Serving Suggestion
pair with a salad
Grilled Broccolini Salad with Black Sesame Burrata
Serves 4
Prep time: 10 mins
Cooking time: 10 mins
Ingredients
2 cups (200g) blanched broccolini, cooled
1 cup (70g) baby cos leaves, washed
1 finely sliced red onion
100g semi sun-dried tomatoes
8 yellow cherry tomatoes, halved
1 large (125g) burrata (creamy mozzarella)
3 tbsp apple cider vinegar
3 tbsp extra virgin olive oil (EVOO)
2 tsp brown sugar
1 tbsp black sesame seeds
Method
Slice the broccolini into bite sized pieces and toss with cos leaves, red onion, semi sundried tomatoes and cherry tomatoes. Place in a large serving bowl and add whole burrata in the centre. Combine cider vinegar, EVOO and sugar, whisking well. Add black sesame seeds and whisk again gently. To serve, break open the burrata and drizzle with black sesame dressing.
Nutritional Information
Servings:
Serving per salad
4
Serving size
216 g
Average Quantity per Serving
Average Quantity per 100 g