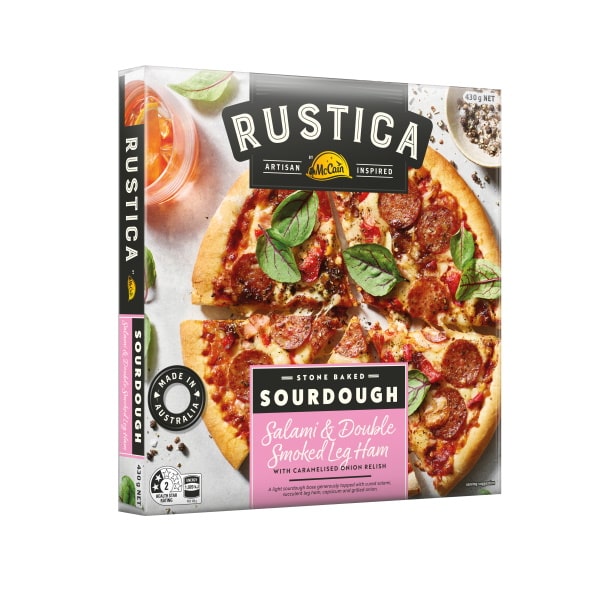 Stone Baked Sourdough
Salami & Double Smoked Leg Ham


A light sourdough base generously topped with cured salami, succulent leg ham, capsicum and grilled onion.
Add the finishing touch, a handful of fresh salad leaves and some cracked pepper.
Ingredients
Wheat Flour, Mozzarella & Parmesan Cheese (Milk, Salt, Starter Culture, Non Animal Enzyme, Non Animal Rennet), Water, Salami (8%) (Pork, Salt, Soy Protein, Milk Solids, Dextrose, Spices, Lactose (Milk), Maltodextrin, Mineral Salt (450), Antioxidant (316),Sugar, Fermented Rice Flour, Spice Extracts, Flavour, Herb Extracts, Preservative (250 and/or 251), Garlic Powder, Starter Culture, Smoke Flavour), Tomato (Tomato, Acidity Regulator (330)), Caramelised Onion Relish (3%) (Barley, Wheat), Capsicum, Onions, Double Smoked Leg Ham (2%) (Pork, Water, Salt, Acidity Regulators (326, 262), Dextrose, Mineral Salts (451, 450, 508), Pork Protein, Sugar, Thickeners (1412, 407a), Antioxidant (316), Preservative (250), Potato Fibre, Citrus Fibre, Smoke Flavour, Canola Oil), BBQ Sauce (Wheat) (Natural Smoke Flavour), Tomato Paste, Sourdough (1%) (Wheat Flour, Starter Culture, Yeast, Ascorbic Acid, Enzymes), Salt, Wheat Starch, Maltodextrin, Garlic, Herbs, Sugar, Natural Flavour, Rochester Sauce, Spice, Natural Colour (160c).
ALLERGEN STATEMENT
Contains Gluten, Milk, Soy, Wheat.
Made in a facility that also processes products with Cashews, Crustacean, Egg, Fish, Peanuts, Sesame, Sulphites
BAKING Instructions
OVEN
1. Preheat oven to 190°C fan forced.
2. Remove film wrap and place frozen pizza directly on the middle rack of the oven.
3. Bake for 14 - 14½ minutes, rotating half way through cooking, or until topping is baked to your satisfaction.
4. Serve while hot.
NOTE:
Pizza is not to be heated in a toaster oven.
Oven temperatures can vary. You may need to adjust baking times accordingly.
For best results bake from frozen.
Nutritional Information
Servings:
Serving per package
2
Serving size
215 g
Average Quantity per Serving
Average Quantity per 100 g
Energy
1,020 kJ (244 Cal)
Storage
Keep frozen at or below minus 18°C.
If contents become thawed, use as soon as possible. Do not refreeze.
MORE Artisan Inspired PIZZAS >
Serving Suggestion
pair with a salad
Capsicum, Sorrel and Orange Salad with Capers
Serves 4
Prep time: 10 mins
Cooking time: 10 mins
Ingredients
2 tbsp olive oil
2 large red and 1 large yellow - (3 x 130g) capsicum, cut into strips
2 (2 x 140g) medium oranges
2 cups (140g) continental parsley leaves, torn
1/2 cup (40g) sorrel leaves
50g capers
3 tbsp Extra Virgin Olive Oil (EVOO)
2 tbsp fig balsamic or vincotto
Method
Preheat oven to 200oC. Toss capsicum strips in oil and place in one layer on a lined baking tray, bake for 12-15 or until browned. Allow to cool. Peel and cut one orange into diced segments, and juice the second orange. Combine parsley and sorrel leaves, orange segments and capsicum strips and top with a sprinkle of capers. Combine reserved orange juice with EVOO and fig vincotto, then drizzle over salad to serve.
Nutritional Information
Servings:
Serving per salad
4
Serving size
225 g
Average Quantity per Serving
Average Quantity per 100 g